Here at Pearl River Methodist Church, we have many Adult Ministries that offer great opportunities to connect, learn, and grow in your relationship with God and others.
Sunday School
Every Sunday morning at 9:00 A.M. our Adult Sunday School class gathers in the conference room of the Grace Center, which is the building on the right of the Sanctuary with white rockers on the porch, for a group discussion around a weekly scripture reading. The class members take turns helping guide the conversation, with the aid of a resource book, as they enjoy a time of fellowship, prayer, and spiritual growth together. There's no homework or preparation before class, and newcomers are always welcome.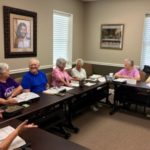 "Sunday's Scripture" Bible Study
Each Wednesday at 10:00 A.M., our pastor leads a discussion-based Bible study on the passage of scripture to be used for the next Sunday's message. There is no homework, and participants come and go from the group as their schedule allows. All that is needed to participate is an open heart and a Bible, (a Bible will be provided if you need one). Friends, family, and newcomers are always welcome. "Sunday's Scripture" meets in the Agape Center which is the building to the left of the sanctuary. Other Bible studies are offered throughout the year on a variety of topics such as Methodism, Spiritual Gifts, World Religions, seasonal topics, etc.
Ladies' Ministry Team
Ladies' Ministry Team meets on the
3rd Thursday of each month at 6:30 P.M.
for a quick dinner together, a short devotional and fellowship. The ladies are also very engaged in service projects at the church and in the community.