Our worship service is at 10:00 a.m. on Sunday mornings in our Sanctuary. The sanctuary is the brick building with four white columns and a tall, narrow steeple with a cross on top. For directions to Pearl River Church click here.
Worship is an integral part of our life together at PRMC. Our service is open to all who are in need of God's love and the fellowship with other faithful believers.
Our service is primarily about bringing praise to God, and we do that through prayer and reflection time; relevant sermons; inspirational music; Bible readings; the offering of gifts to God; and sharing Holy Communion together, which we do weekly.
Church is about community. It's about relationships. In addition to praising God, we also deepen our connection with one another during worship. Many people arrive early for the 10:00 a.m. service to grab a cup of coffee and visit in our Gathering Room outside the sanctuary. Our informal, family-friendly service creates opportunities to draw closer to God and closer to one another.
Children Church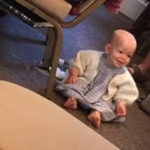 We love children, and we welcome you and your family to worship. Just before services start, the Children's Church leaders will escort them to the Agape Center next-door for Children's Church, where they continue to deepen their understanding of God and form friends in the faith. Children are brought back into the sanctuary at the end of the service so they can share Communion with their church family. There are times during service, when the children, will show us what they have learned and sometimes they even do our service. It is a program where children are eager to return. We also have a nursery in the Agape Center for our littlest disciples.
Sermons
Our Pastors create meaningful and inspirational sermons and sermon series throughout the year that link scripture to relevant topics and themes in our life. You will be challenged to live for God more passionately, consider the great truths of the Christian faith, and seek answers to your questions of faith.
Music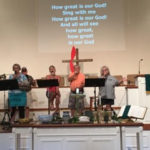 We enjoy a blending of traditional hymns played from the piano with contemporary praise & worship songs played by our praise band. From longstanding favorites, like Amazing Grace and Blessed Assurance, to current Christian artists, like Chris Tomlin and Hillsong, we sing a variety of music throughout our services.